A 3D Interactive Installation
___________________________________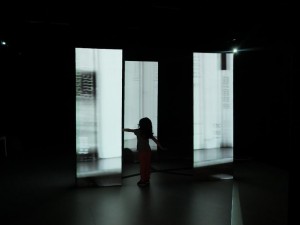 crédit : Simon Dumas
Originally created for poetry by Productions Rhizome, the interactive video installation Choir(s) was inaugurated in October 2015 at the opening of the House of Literature in Québec City and then, was presented during the Transnumériques in Mons (Belgium), European capital of culture 2015.
This fascinating work immediately interested Sylvain Bleau, director of Cinédanse. He grasped his great potential to recreate it to the world of dance.
This project would be a recreation for nine dancers shown in a full size 3D environment called Shall We Dance?
___________________________________
A unique 3D device developed to capture the meaning of the visitor
Nine performers and / or choreographers from Canada and abroad will share a unique experience at the confluence of new artistic practices. A trace they left, snatches of visual and audio codes with a digital device that interact. Together, especially, but also with the visitor. When, he is located in the square of light, all dancers begin to move simultaneously. Then, gradually, one by one, two by two, they offer their solo or their dance.
The device consists of three triangular prisms with nine projection surfaces and 13 audio channels. This device spatializes video of the nine surfaces that allow dancers to be screened full size in a 3D environment. Nine speakers, located inside prisms, give the visitor the impression of being in the same room as the performer(s). Four others, installed all over the room, broadcast in « tetraphonie » audio parts.
A new way of spreading dance outside the cheaters, this installation can be found in a museum or gallery, or other artistic black box space.
Our world needs to reconnect with its senses and our project Shall We Dance? combines the universal and international character of the dance innovation, one which captures the zeitgeist.
And the same nagging question that haunts our approach finds an answer: «Why dance when there is so much to do? Because… because our world, here and everywhere, needs a lot, a lot of dancing!».
___________________________________
An excerpt from the original work for poets
___________________________________
Partners of creation and production
Shall We Dance? will be inaugurated on the occasion of the 3rd edition of Cinédanse to be held at the new Ottawa Arts Court in the spring of 2018.
Our partners and coproducers : Cinédanse and his producer La Caravane de Phoebus (Montréal), Productions Rhizome and LANTISS, the Laboratory of New Technologies, Image, Sound and Stage at Université Laval (both in Québec City), Ottawa's Arts Court and ODD Ottawa Dance Directive Centre de danse contemporaine.

___________________________________